On my Facebook I posted or shared this picture and blurb on the latest issue of Skeptical Inquirer: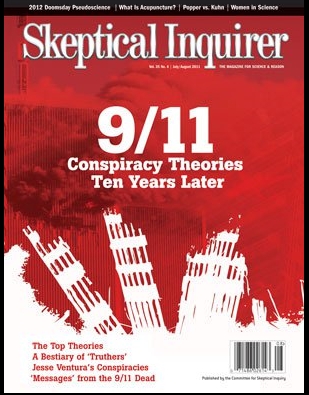 "Cover of the Skeptical Inquirer at the printer now. Can hear the "Truthers" sharpening their pencils already."
Now available online
. -- Skeptical Inquirer.
A fellow on facebook, let's call him '"T" (who I had extensive exchanges with regarding climate changed) posted this comment in response:
"I would gladly debate this subject with you any day of the week."
Okay "T" (or whatever name you wish to use here), let's begin. And first, a few suggestions:
a) perhaps you should read the article in question (if it's not out already, it will be in days).
b) Don't just pass along a bunch conspiracy claims you've heard. The truth is in the details and investigating the details means examining claims carefully and with detail. So pick a couple that you think have the best merit and focus on
making a case for them
. Focus on the science, not political distractions.
This is open to all, bring your friends. Best if we can focus on the merits of the issues and not distractions such as long screeds devoted to ranting and insults as quickly happened before.
D.