Refuting the "50% don't pay taxes" Canard
The claim that half the population doesn't pay taxes is a popular canard in our media. It has been spread so wide and deep that it is being picked up and regurgitated by those who really should know better. In the following I will address the claim, in it's various forms.
"It's hard to have a fair tax system where only about half the people are paying,"
This is our own flatfooted Arkansas
democratic Senator, Mark Pryor
on August 23, 2011. Of course this statement is plainly false, by any measure. Everyone who lives in society, and buys a product, pays taxes. Lest anyone think I am selecting a single politician who misspoke, Jon Stewart provides several examples of this false claim being made by the media and politicians. See
this clip from August 18
.
When it is pointed out that this claim is patently false, sometimes the person will do a little investigating and discover that what they really meant to say was...
"51 percent of the public don't pay any

federal

taxes right now."

LINK
This is our other flatfooted Arkansas republican Senator, John Boozman passing along another false variation of this. Everyone who buys a gallon of gas, pays "federal taxes." At this point, sometimes the person will do a little more checking and discover that no, what they really meant to say was...
Only about half the population pays

federal

,

income

, taxes.
At this point, we have arrived at the least false way of putting forward this extremely misleading canard. I went through the above two steps because, having done this dozens of times with the legion of peddlers of this talking point, they typically have to be trained how to state their canard in this least false way. Now we can begin where where we should have started in the first place. Here are a few of the ways this claim misleads and fails.
1) It commits the fallacy of cherry picking, which is:
"Cherry picking, suppressing evidence, or the fallacy of incomplete evidence is the act of pointing to individual cases or data that seem to confirm a particular position, while ignoring a significant portion of related cases or data that may contradict that position. It is a kind of fallacy of selective attention..."
wiki blurb
How does it do this? First, by ignoring federal payroll taxes. As the conservative
Heritage Foundation notes
with the following graph, both of these taxes raise about the same amount of money for the government:
Thus in 2010:
Federal revenue from personal income tax was ($898.5 billion) and 41.6% of federal revenue
Federal revenue from payroll taxes was ($864.8 billion) and 40% of federal revenue
These numbers vary each year of course. In 2008 for instance, the ratio was 45% (income) to 36% (payroll):
LINK
But this hardly matters. Anyone can clearly see that both represent a substantial tax burden to the populace and substantial revenue stream to the federal government. Pointing to one, while purposely excluding the other, is
profoundly dishonest
and commits a textbook example of the cherry picking fallacy. A person who wants a fair consideration of tax burden would never appeal to such blatantly flawed reasoning.
In 2009, the percentage excluded from the category of federal income tax rose to 51%. The
Center on Budget and Policy Priorities
points out why this year was an anomaly:
1) "The 51 percent figure is an anomaly that reflects the unique circumstances of 2009, when the recession greatly swelled the number of Americans with low incomes and when temporary tax cuts created by the 2009 Recovery Act — including the "Making Work Pay" tax credit and an exclusion from tax of the first $2,400 in unemployment benefits — were in effect. Together, these developments removed millions of Americans from the federal income tax rolls. Both of these temporary tax measures have since expired.
In a more typical year, 35 percent to 40 percent of households owe no federal income tax. In 2007, the figure was 37.9 percent.

Again, this does not, ever, excuse the purposeful and misleading exclusion of payroll taxes.
Another reason payroll taxes must not be excluded in any consideration of federal taxation is because it is a completely artificial semantic distinction. One is called Federal Income tax, the other is, if you are an employee, a Federal tax, calculated upon your income (payroll). Payroll taxes are a federal tax, are calculated based upon income (from work) and go into the same government coffers and are spent like all of the rest! What possible basis could there be to pretend one of these taxes can be ignored while only one of them is worth considering?
That's what this canard does.
Once it is established that to be honest, we must include payroll taxes, what then is the
real percentage
of those not paying either one of these federal taxes? The
Tax Policy Center
has the charts and calculations for 2011. They note:
Nearly Two-Thirds of Households That Will Pay No Income Tax... Will Pay Payroll Taxes
So we find the honest way to state it is that

81.9% of the population is paying federal taxes

, based upon income or income from payroll.
This leaves only 18.1% that are not paying these federal taxes. Who are these people that not paying? Observe:
The chart shows that of this 18.1%,
95% of them are either elderly, or living in poverty
. Only 5% of this category, (or 1% of the whole), represent people who are not elderly or living in poverty (less than $20k per year).
2) Furthermore, we find that payroll taxes take a much more substantial percentage of income from the working poor. This reveals the motives of those who exclude payroll taxes.
.
.
LINK
Notice how, because payroll tax is capped at $108,600 the very wealthy end up paying a
much smaller
percentage of their income in payroll tax than the poor.
The following example illustrates this point:
LINK
Then there is the famous Warren Buffet example:
"Mr Buffett... survey of 15 of his 18 office staff at his Berkshire Hathaway empire... he was paying 17.7% payroll and income tax, compared with an average in the office of 32.9%."

"I'll bet a million dollars against any member of the Forbes 400 who challenges me that the average (federal tax rate including income and payroll taxes) for the Forbes 400 will be less than the average of their receptionists."

LINK
Another graph showing a fair consideration of total taxes:
"The following graph comes from a report (pdf) by Citizens for Tax Justice. It compares the share of the total tax burden -- that means income taxes, payroll taxes, state and local taxes, capital gains taxes, and so forth -- with the share of the total income for different groups. It's the single most important graph to understand our tax system."

Washington Post
The Center on Budget and Policy Priorities has an excellent article which goes on to address
further misconceptions
which I will quote here [numbering is mine]:
Misconceptions and Realities About Who Pays Taxes

2) The 51 percent figure [2009] covers only the federal income tax and ignores the substantial amounts of other federal taxes — especially the payroll tax — that many of these households pay . As a result, it greatly overstates the share of households that do not pay any federal taxes... only about 14 percent of households paid neither federal income tax nor payroll tax in 2009,....

3) This percentage would be even lower if federal excise taxes on gasoline and other items were taken into account.

4) Most of the people who pay neither federal income tax nor payroll taxes are low-income people who are elderly, unable to work due to a serious disability, or students, most of whom subsequently become taxpayers.

5) Moreover, low-income households as a whole do, in fact, pay federal taxes. Congressional Budget Office data show that the poorest fifth of households as a group paid an average of 4 percent of their incomes in federal taxes in 2007 (the latest year for which these data are available), not an insignificant amount given how modest these households' incomes are — the poorest fifth of households had average income of $18,400 in 2007. [4] The next-to-the bottom fifth — those with incomes between $20,500 and $34,300 in 2007 — paid an average of 10 percent of their incomes in federal taxes.

6) Even these figures understate low-income households' total tax burden, because these households also pay substantial state and local taxes. Data from the Institute on Taxation and Economic Policy show that the poorest fifth of households paid a stunning 12.3 percent of their incomes in state and local taxes in 2010.

7) When all federal, state, and local taxes are taken into account,the bottom fifth of households paid 16.3 percent of their incomes in taxes, on average, in 2010. The second-poorest fifth paid 20.7 percent.
Regarding the objection that poor households receive Earned Income Tax Credits...
8.) The majority of EITC recipients receive the credit for only one or two years at a time, such as when their incomes drop due to a temporary layoff; they pay federal income tax in other years. In fact, EITC recipients pay much more in federal income taxes over time than they receive in EITC benefits. A leading study of this issue found that taxpayers who claimed the EITC at least once during an 18-year period paid a net $473 billion in federal income tax over that period (in 2006 dollars)."
They summarize:
Bottomline: "The federal tax system is progressive overall, but state and local tax systems are regressive and undo a significant share of that progressivity."
Considering that, let's also take a moment and consider the

state tax situation

, as any fair and comprehensive examination of taxes would.
Who Pays? A Distributional Analysis of the Tax Systems in All 50 States
"This study assesses the fairness of each state's tax system, measuring the state and local taxes paid by different income groups in 2007 (including the impact of tax changes enacted through October of 2009) as shares of income for every state and the District of Columbia... The study's main finding is that nearly every state and local tax system takes a much greater share of income from middle- and low-income families than from the wealthy. That is, when all state and local income, sales, excise and property taxes are added up, most state tax systems are regressive."
Institute on Taxation & Economic Policy
Let's look at Arkansas specifically:
"When all Arkansas taxes are totaled up, the study found that:

* Arkansas families earning less than $15,000—the poorest fifth of Arkansas non-elderly taxpayers—pay

12 percent of their income

in Arkansas state and local taxes.

* Middle-income Arkansas taxpayers—those earning between $26,000 and $42,000—pay

11.7 percent of their income

in Arkansas state and local taxes.

* But the richest Arkansas taxpayers—with average incomes of $911,500—pay only

6.8 percent of their income

in Arkansas state and local taxes."
See the state by state break down here:
http://www.itepnet.org/wp2009/statespecific.html
UPDATE: Here is a useful chart that shows tax break down, state by state:
Excerpt:
"The Corporation for Enterprise Development recently released a scorecard for all 50 states, and it has boatloads of useful information. That includes overall tax rates, where data from the Institute on Taxation and Economic Policy shows that in the median state (Mississippi, as it turns out) the poorest 20 percent pay twice the tax rate of the top 1 percent. In the worst states, the poorest 20 percent pay five to six times the rate of the richest 1 percent."
Soaking the Poor, State by State
So we find that, as with payroll taxes, the poor and the middle class pay a *greater* percent of their income in state and local taxes than the wealthy. Yet this also gets excluded in this canard that only considers the carefully cherry picked category of federal, income, tax.
This chart is also informative and makes the point that in reality,
everyone
is paying federal
and
state
and
local taxes:
This chart is from this article
The 51% Zombie Lie
.
Conclusion:
The above is the long version and should give you all the information you need to drive a stake through this canard when you see it. Here is the main argument summarized in one sentence:
"81.9% of the population pays federal taxes based upon income or payroll, and of the remaining 18.1% that do not, 95% of these are elderly or very poor."
If our politicians and media want to state the tax situation fairly, with regard to just federal taxes, they should consider referring to the situation in this way.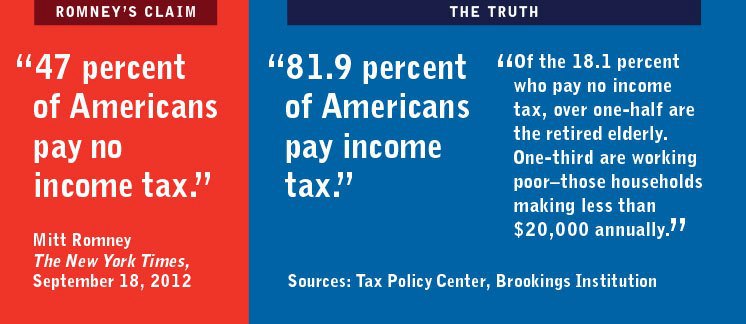 One more thing to consider. Us wealth divides up something like this:
Consider the argument says we have a problem or an unfair situation because
taxes are too low on the individuals contained within that red dot
. Really?
***
Bonus rebuttal:
It's A Myth That 47% Of Americans Pay No Taxes, In Truth 86% Pay Taxes
"The actual number of Americans who don't pay any taxes isn't half, but 14%. This group of non-taxpayers of any kind is largely composed of the elderly and disabled. The people who don't pay taxes do so because they can't work.
The myth that the wealthy are carrying the tax burden for America is used to justify tax cuts for the rich. Conservatives use the inaccurate statistic hand in hand with their, "wealthy are the job creators argument." One statistic that was intended to demonstrate the loss of income due to the recession, along with the impact of the Obama tax cuts has been distorted and misused to justify a policy of not asking the wealthiest Americans to pay their fair share.
The truth is that 86% of Americans pay taxes. In one recession strapped year (2009), less than half of single filer taxpayers paid federal income taxes.
Millions of Americans are not being told the truth that almost 90% of us pay taxes, and that much of the reason why there were fewer people paying federal income taxes in 2009 was that
Barack Obama signed the largest tax cut in US history
.
Since the truth undercuts the conservative's reverse Robin Hood steal from the poor to give to the rich policy, they are going to do their best to keep the facts buried under a mountain of misinformation."
Politics USA
Nice unpack of this here also: "Mitt Romney versus the 47 percent"
LINK